Orthanc Turns 5, New Release Available
July 19th, 2017
Exactly five years ago, on July 19th, 2012, Orthanc was publicly released for the first time. To celebrate this birthday, version 1.3.0 is now available for download! This new release contains many bugfixes and improvements.
As of today, the entire Orthanc ecosystem consists of more than 140,000 lines of code, all released under a Free Software license (GPL/AGPL). Over the last year, two new components were added to this ecosystem: A plugin to bring support of DICOM for whole-slide microscopic imaging (digital pathology), and an innovative rendering engine for medical images that is called Stone of Orthanc. Stone of Orthanc was notably demonstrated to be the first toolkit able to render a PET-CT fusion in a Web browser using the emerging WebAssembly technology.
Over the last year, given the huge number of inquiries originating from third-party hospitals, the University Hospital of Liège (from which the Orthanc project originates) has given its spin-off company Osimis the responsibility to develop a commercial activity on the top of Orthanc in order to sustain its development. Osimis develops a whole range of support services for hospitals, integrators, and/or end-users, according to an open-source business model.
The Orthanc/Osimis joint effort reached its climax today, as shown in this photo of myself (Sébastien) together with the core developers of Osimis working together to create the 1.3.0 release: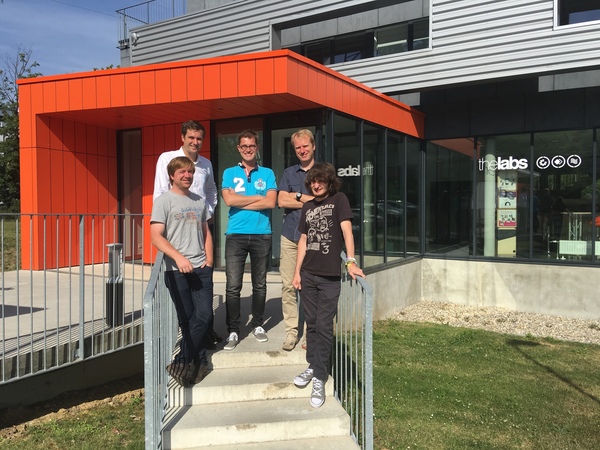 Over the following months, besides maintenance tasks, the Orthanc project will essentially focus on stabilizing the Stone of Orthanc. Our vision is indeed that Stone is a very important contribution to the medical imaging community, as it will make possible to create a whole new generation of DICOM viewers that are truly cross-platform: Indeed, thanks to the Stone of Orthanc, Web sites, mobile apps, and heavyweight clients that render medical images could all share the same C++ codebase.
In parallel to the Stone of Orthanc, we wish to work on a MySQL database plugin, on the optimization of the database schemas if storing many studies, and on a new generation of the built-in Orthanc Explorer administrative Web interface. To make this possible, we need you to contribute to our campaigns, notably by donating to our calls for crowdfunding!
In a nutshell, the history of Orthanc is only at its very beginning... now, let's see what can be accomplished with five more years! :)
Thanks to all the Orthanc community to make this success possible,
Sébastien-
---
Whole-Slide Imaging
October 22nd, 2016
The Orthanc project is delighted to announce that it now provides a reference, lightweight implementation of DICOM for whole-slide microscopic imaging (digital pathology).
---
Stone of Orthanc
October 14th, 2016
A new companion tool to Orthanc has just been released! This free and open-source tool is called the Stone of Orthanc. Just like a palantír, Stone is a means of seeing medical images in Orthanc servers.
---
First Stable Release of Orthanc
December 16th, 2015
After four years of intensive development, we are very happy to announce the release of the first stable version of Orthanc (version 1.0.0).
---
Survey: Who Uses Orthanc?
July 31st, 2015
The Orthanc project is continuously growing. To support its development, we would love to hear which hospitals, universities, companies and organizations take advantage of Orthanc. Please let us know by sending a short mail!
To put weight on future grant applications for travels/hardware/servers/..., we wish to gather a list of institutions that use Orthanc for production, for quality assurance, or for R&D purpose. These institutions will be publicly listed on this Web site, in a separate "Orthanc Users" section.
If you wish to support Orthanc, please use the following pre-filled mail, ideally attaching your institution's official logo:
---
Orthanc Celebrates its Third Birthday
July 20th, 2015
The Orthanc project is now three years old. The last year was exceptionally rich for this free and open-source project. It's time for a short survey!
---
Illustrations of Orthanc in Action
Februrary 2nd, 2015
Following our talk at FOSDEM 2015 about free and open-source software for medical imaging, discover some media illustrating Orthanc in action.
---
Orthanc Celebrates its Second Birthday
July 18th, 2014
The first public release of Orthanc was on July 19th, 2012. Today, we are ready to celebrate its second birthday! It is time for a brief review of the past year.
---
Orthanc to be Even More Open
June 19th, 2014 (updated on July 11th, 2014)
Orthanc 0.8.0 features the possibility for external developers to create and distribute plugins for Orthanc, thanks to the Orthanc Plugin SDK.